Advanced Family Dentistry is a Digital Imaging Practice: Proud Owners of an iTero® Element™ Intraoral Scanner in Freehold, NJ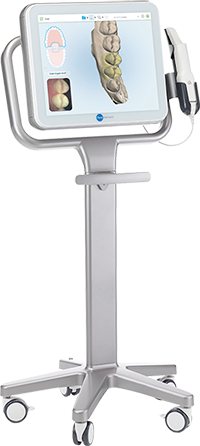 iTero Makes a Great First Impression
The iTero Element Scanner is a state-of-the-art digital scanning system that eliminates the need for unpleasant traditional alginate impressions—no more messy putty in your mouth! Many people experience gagging and discomfort of conventional impressions, which results in long set times and unhappy patients. Digital impressions can start and stop whenever needed for your comfort!
How does iTero work?
Using the hand-held wand, the iTero takes hundreds of pictures and stitches them together in order to form a 3D representation of your mouth. This 3D image is uploaded into specialized software that allows Dr. Fan to create and implement your treatment plan. Dr. Fan uses iTero digital scanning for diagnosis and treatment planning with crowns, bridges, implants, and Invisalign® clear aligners.
The greatest advantage of iTero digital impression is the convenience and accuracy of the images it captures. This means less struggle and chair time to get crown and bridge to fit well, and a more precise fit for Invisalign aligners.
Digital impressions are the new way of dentistry, and we're proud to offer it at Advanced Family Dentistry. To learn more about iTero and all the ways we can make your dental experience more pleasant through advanced technology, please contact our Freehold dental office!