A dental implant replaces a lost tooth with a single, solid structure. It is comprised of two parts: a small titanium post that recreates the root structure of the tooth and a restoration that acts as the crown of the tooth.
Unlike traditional dentures and removable bridges, implants are a permanent tooth replacement solution. Besides restoring your natural-looking smile, you will also regain improved mouth function. Dental implants can help you to speak and chew properly and avoid premature facial wrinkles. In addition to this, dental implants in Freehold, NJ stimulate bone growth. This is very important for patients with tooth loss, as missing teeth eventually lead to the deterioration of the jaw.
While dental implants are an exceptional tooth-replacement option, not everyone is a good candidate for implants. For the tooth replacement procedure to be a success, you must have enough strong, healthy bone and be in good overall health. Strict oral hygiene habits are required in all cases.
To know if implants are an option, it is always best to get 3D imaging done with a CBCT. With this information, Dr. Fan will know the bone volume and plan for the correct size implant for your tooth replacement.
Dental Implants at Advanced Family Dentistry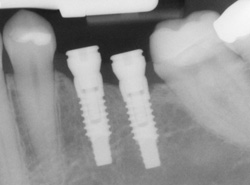 Having completed a comprehensive implantology continuum through the Columbia University College of Dental Medicine, Dr. Jonathan Fan has the knowledge and skill to place dental implants from the comfort and convenience of our Freehold dental office. Most implants are less painful than tooth extractions and are usually done in a few hours using only local anesthesia. Our use of CT scans and surgical stents ensure complete accuracy for the placement of implants, leading to long-lasting results and a more comfortable experience for you.